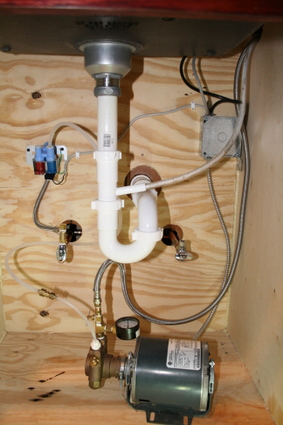 Water feeds from the inlet valve (yes it's cold on the left.) to the solenoid. From there, it feeds the pump, the pump feeds the machine.
The solenoid keeps normal water pressure from making the espresso machine constantly leak. Without it, the machine will drip continally. If you don't have a drain on your drip tray, it will lead to disaster.
To simplify wiring, I mounted a junction box in my cabinet and ran armored wire to my pump. Inside the box, the solenoid is wired to the same relay operated circuit as the pump. Any time the pump turns on, the solenoid is activated.
All the hoses feed to the next cabinet, where they pass up to the espresso machine. The drain line is connected to a simple drain that I added to my drip tray with some slightly modded brass fittings.