include '/home/willo/www/nav.php' ?>
1980 XS 850 Special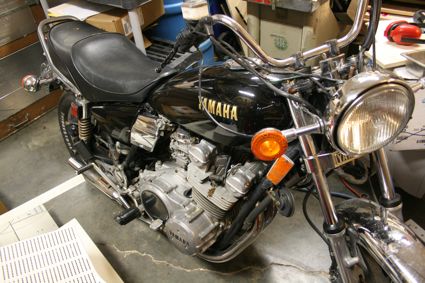 I picked up this bike thinking that it would make a good (titled) donor for my EV project since it wasn't running.
When I saw it first hand, I realized that this bike was in too good of shape to gut. Some diagnostics revealed the problem - the bike had ZERO compression in all three cylinders. After pulling the head, I found the pistons and cylinder walls in good shape, so I took it in for a valve job. There the machinist found that all of the valves were bent!
A bit of hunting around later, I picked up a second head for the bike off of ebay and my machinist is going to assemble the bits into a working unit.
Meanwhile I started going through the wiring. Inside, I found a mess. Many of the connectors have been physically abused and several bits of wiring mangled.


Restoration!
After some thought, I decided to dig in and bring the machine back to life, but I'll be taking a different approach from the usual...

The tires were shot, so they've been replaced.
The carbs were junk, so I've decided to to an EFI conversion.
The wiring is junk, so I'll be replacing the entire harness
The ignition will be upgraded to something from this decade.
The charging system will be updated with a modern rectifier regulator.
The suspension will either be rebuilt... or replaced with GSXR forks!
With new forks, come new brakes and probably new instruments.


Resources
Yamaha Triples Forum
Megasquirt Manual
xs750, xs850 service manual
$last_modified = filemtime("index.php"); print("Last Modified "); print(date("m/j/y h:i", $last_modified)); ?>
include '/home/willo/www/ads/adsense.php' ?>