Deal, I've been busy.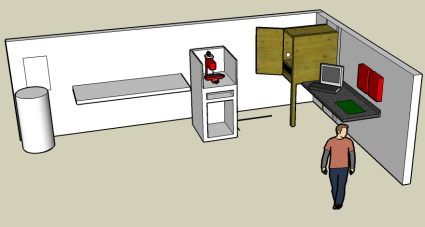 Between the house, hack-a-day, defcon 15 and work, it's been nuts. I finally started to recover some of my workshop space from all the stuff that we stored when we were moving. This is a little visualization of some of it. A new containment/cooling system for the mill, inset cabinet to hold my home theater gear from the living room, small network cabinet for my patch bay and switch, and electronics work space.
Tonight I'm hoping to get the inset cabinet built for my ht gear. We're looking forward to getting the wires out of sight and recovering the floor space.
« M-day is coming and I'm going to be busy.