Fixed site, plotted to do more on the 850
I repaired my old theme, which appears to be happily working now. Meanwhile I've been working on my xs850 a bit.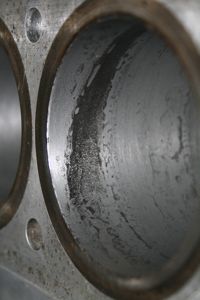 Last week we pulled the cylinders and ended up breaking a cylinder ring. I was a bit sad about it until I scrubbed the worst cylinder wall I have. It appears to have some pitting that's serious enough for me to consider boring the cylinders out. With the broken ring and a full set of OEM rings running $100-$150 these days, it's not to hard to make myself be patient and get a new set of wiseco pistions for a bit more cash. This will involve a bit of work to get the compression down to a decent level, but I'm pretty hopeful. I may even mill my own copper head gasket.
I probably could have made it a season of riding without re-doing the pistons, but hopefully a bit of attention will pay off later.
On the EFI front, I picked up a Coolant Temperature Sensor that I believe I will place just below the cams in the head where the cam chain won't get near it.
I'm still pondering the VR sensor for the Ignition/Cam signal pickup but I did decide to blow off the ford EDIS coils and use a set of GSXR Coil on Plug units. I'll probably have to fab up some supports to hold the plugs but I won't have to deal with replacing the plug wires… ever. More on those once they show up in the mail. Not a bad upgrade for $12 on ebay. (One was missing from the set of four.)