Look ma, I got another Miata…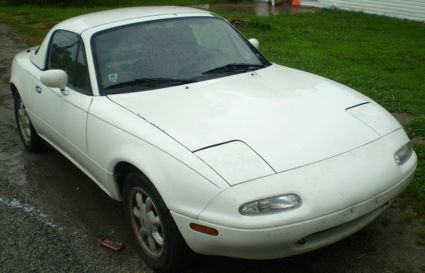 I've finally returned to the land of the rag top! I picked up this slightly unfornate looking 92 Miata last week. The factory top is decent, but not the window. Luckily, it included a hard top – in 92 they added a rear defroster and light to the hard top.
With a mere 132k on the odometer, decent tires and running condition, it was a fair deal. I'm going to get the small rust spots on the front of the rear wheel wells dealt with, then it'll get some fresh paint. Some day it'll get some forced air. For now, it's getting a tune up and an oil change.
There was a bit of stutter near 3-4k rpm, so I swapped out the plugs and wires. This seems to have cured it, but the idle is down to about 500rpm – a tad low. Once I get that sorted, she'll be purring.
« My bout of bathroom insanity