New horse, er Soldering Iron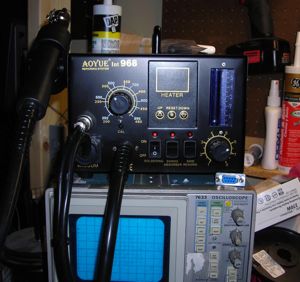 I used to sport a pretty decent Tenma soldering station, but it moved on and I've been settling for lesser irons since. I finally upped my game a bit with a new dual purpose soldering station: the Aoyue 968 SMD rework station. Ian put together a pretty decent review of his on Hack-A-Day (one of my successors – who's doing a fine job by the way) I ordered mine up from Amazon – you can support my work/site/kids by using this link and ordering if you want one.
I gave the rework pencil a workout with some normal solder and a un-cleaned pc board. It worked like a champ. The temperature controller works very nicely, and takes some time to cool things off when you shut it down to prevent damage to the heating element in the pencil.
I managed to slice my finger on the fume collector mounted to the soldering iron – I'll put a bit of effort into cleaning up the sharp edge but it wasn't a big deal. It could pose a problem during tip changes.
The station itself is large – I mean pretty big, but it fits nicely on top of my 7633 oscilloscope ( which is pretty huge) so it doesn't bother me. If you're short on space, you might consider sticking with a pencil iron that stores in a tool box, this is a workbench size too.
Mad scientist factor: mid to awesome. The blue lit air flow indicator is great. Make sure you pull the pump retention screw on the bottom or you'll be in for some serious noise. All in all a great tool, but the digital temp indicator is only for the reflow side – not the soldering iron. If you depend on decent temp feedback on your iron, you should consider picking up a dedicated temperature controlled soldering iron.
« Where's freakin android, screw it – gimme an iPhone