Portafilter seal replacement tricks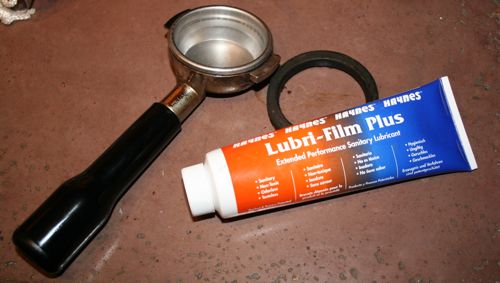 I did a little maintenance on my ECM Giotto espresso machine today. My portafilter seal had started leaking recently, so it was a good time to do it. A well used machine will typically need the portafilter seal replaced every six months or so. If you stretch it, it may be a couple of years, but eventually you'll have to do it.
Not so tricky – Places to find parts:
Theory says that local shops will have what you need. In practice, it's very difficult to buy locally. Most coffee shops only deal with a certain brand of machine and they usually look at you funny if you ask about seals and things for other ones.
These are some of my favorites: Espresso Parts and Chris Coffee. Both have proven to be fantastic for supplying the odd espresso machine part. I've challenged a few parts shops with my projects in the past and both of these vendors passed my tests with flying colors. (You try finding a replacement boiler in the US for something hand made in Italy…)
Trick 1: Removing the old seal:
use a drywall or wood screw and gently screw it into the seal. Even if the screw doesn't get a good grip, it'll usually crack the seal apart making it easier to slide a small screw driver in to pry it down. Mine took two tries – the second time the screw gripped it very well and I was able to loosen the seal by pulling on the screw with some pliers. Be careful not to damage the soft brass in the group. You're after the cheap seal, not the expensive group!
Trick 2: Clean everything:
It sounds obvious, but you really need soak and clean all the metal bits. Get some espresso machine cleaner – purcaff or similar and soak all the parts. My group has a metal basket and a spray nozzle screw that I clean along with my portafilter baskets. After they soak a bit, a soft brass brush can be useful for getting stubborn bits off.
Trick 3: (My new one) Lubricate the PF seal before installing it:
This may sound odd, but I figured that I'd give it a shot. I had some high temp food safe lubricant that I bought just for the pivot in my E61 group. It's a special item that I bought from Chris' Coffee. I put a tiny dab on the seal and rubbed it all over the top and sides of the seal. Think lightly greased cooking pan thin.
Trick 4: installing the seal:
After that, I used a portafilter to push the seal into place – but I took out the coffee basket first. This'll let you use the PF to push the seal into place without much work. Then put a basket into the filter and use it to push the seal all the way in. (On the giotto, there's a basket that goes into the top of the group – you put the seal around it before installation)
« What the heck, Popular Science