Logic Analyser on MacOSX: sweet.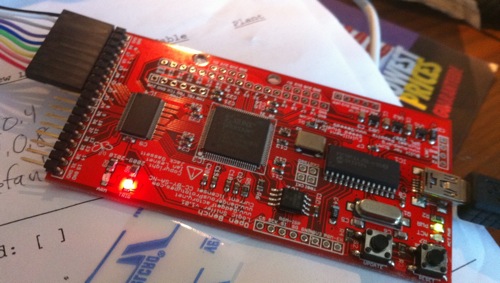 I finally picked up one of the SUMP project based Open Source Logic Analyzers that Ian worked on. It's a pretty good deal from Seeed Studio. I wanted it to work on my Mac, which wasn't too horrible, but it was a little annoying to dig through forum posts to figure it out. Even then, I thought that the instructions were a bit lame.
Here's how to make it work under Snow Leopard(10.6.4):
Download the latest Arduino software and right click the application to view contents. Look under Resources/Java and you'll find RXTXcomm.jar and librxtxSerial.jnlib.
Copy those two files to /Library/Java/Extenstions on your Mac hard drive.
Download the latest SUMP application from: http://www.sump.org/projects/analyzer/
I used: http://www.sump.org/projects/analyzer/downloads/la-bin-0.8.tar.bz2
Uncompress that and toss it in your Applications folder. Now you should be able to doubleclick analyzer.jar (which is inside the client folder of the thing you just uncompressed)
Now open /Applications/Utilites/Java Preferences. You need to make 32bit the preferred launcher for applications. Look at the lower list that says:
Java SE 6 64-bit
Java SE 6 32-bit
Now drag the 64-bit one so that the 32-bit is first in line. Close the Java Preferences Utility.
If you've done it right, you'll be rewarded with an application window. If you messed up, the app will open and immediately crash.