Make ice softer
I've got a few hobbies that I personally think have no more risk than spending your life on a couch. That said, they do tend to produce more slight injuries (unless you have a really evil couch).
Every so often I enjoy sliding down a snow covered mountain. Sometimes the mountain likes to help me stop sooner than I'd planned. Since mountains aren't usually very soft, I like to put something between me and them.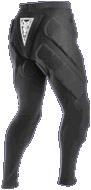 With this in mind, I bought a set of Crash Pads long underwear. They're really just a set of medium-weight pants with strategically located mid-high density foam pads built in. Needless to say, they rock. I took a good blow to my hip on a wipe out and I simply bounced. Without the pads, I would have had some fantiastic brusing on my pelvis/hip bone. For boarding, I also added a pair of protec elbow pads to my rig. Again, they work great.
Because my trips are so short, I'm switching to skiing so I can hit the whole mountain.  For this round, I'm considering a set of upper body pads. They're marketed as body armor, but they're really just lightweight padding.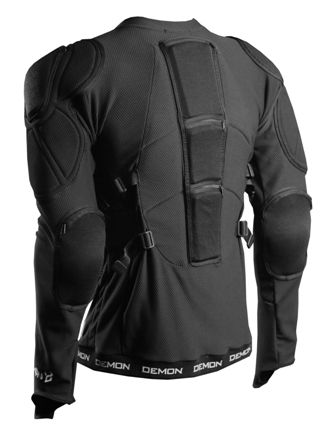 Demon Snow makes a decent looking set of upper body padding. It's not quite as padded out as some of the more expensive gear, but I think it'll help protect the spine, elbows and shoulders from taking the beating that comes with a good crash.
« How-To: Mediatomb, Mac and DirecTV HDPVR