Hack job powerbook g4 repair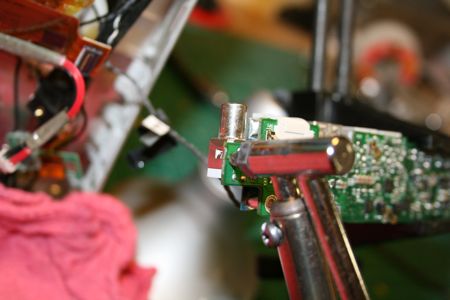 My wife trashed the power plug on my old her 15 inch Powerbook G4. I cleared enough room on my workbench and finally got around to taking the thing apart. I desoldered the old power jack – I was pretty impressed at how well it held up. Unfortunately, it had pieces of old power plug in it and the contacts were pretty worn out. I didn't have a decent replacement on hand, so I soldered in some speaker wire (It was the most robust thing I could find – and it fit through the tiny holes on the board with only minor trimming) then  I zip tied it to the DC in board. I'll be adding some sort of break away connector later on, but for now, I just spliced the wires to the power plug and zip tied the thing together.
It's ugly, but it works and it should be pretty solid for a while.  She's been sans powerbook for a few months (I was busy and I have a spare laptop) so now every time I turn around she's on the thing.
« New recipe: Coconut Chicken Curry